Justin and I officially became parents of a five year old on Easter Sunday (4.04.10)! How in the world did 5 years go by so fast?! I think back on how much our Hudson has grown and am constantly blown away by his bright spirit, energetic personality, imagination, and wittiness...he's a pretty smart kid (I can say that...I'm his mother)!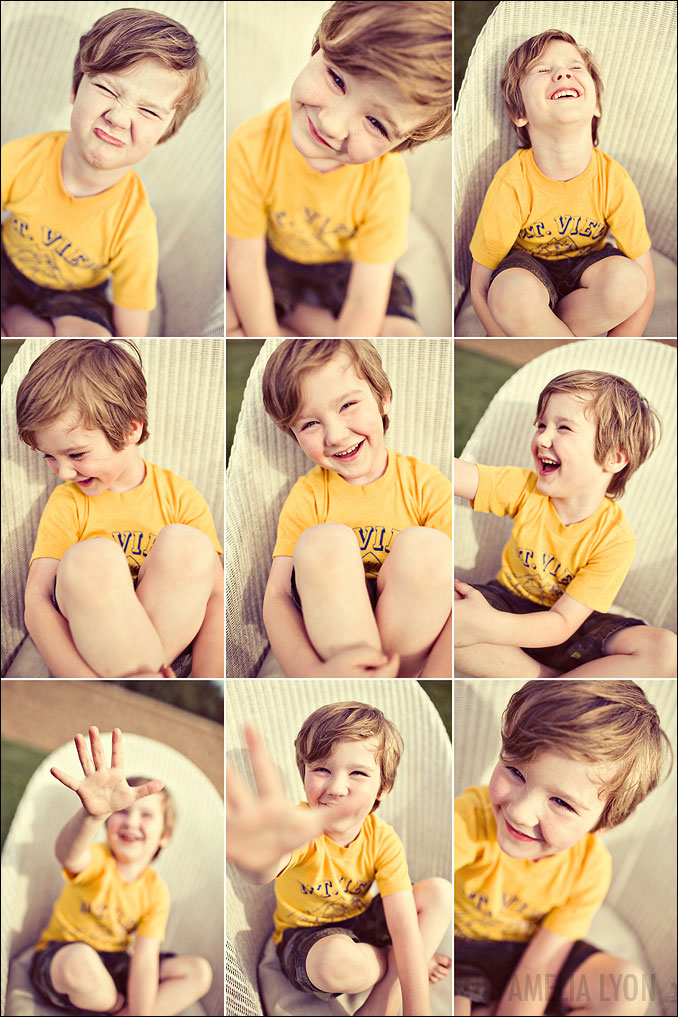 1. LOVES playing Mario Brothers and Mario Kart on the Wii
2. is super helpful to mommy and daddy
3. is really into Legos, Star Wars, and dinosaurs
4. knows exactly how to make his little brother laugh at the drop of a hat
5. has two best friends at pre-school, Logan & Zachary
6.
still
has a make believe pet cow named "Mc-Mooey"
7. also has an imaginary friend named "Tyler"
8. is better at Mario Kart than mommy and almost as good as daddy
9. favorite ice-cream is mint-n-chip
10. always is fighting with mommy & daddy about who gets to style his hair & what he wants to wear ;)
11. is learning how to be a super rad reader and is getting better at writing every day
12. likes to ask A TON of questions
13. some of his favorite bands include: Black Eyed Peas, Phoenix, Miike Snow, & Vampire Weekend
14. loves to have dance parties with mommy, daddy, and "Sloanie" everyday
15. always reminds the family to say prayers
16. only likes to eat the frosting off the tops of cupcakes
17. best friends outside of school: Maddux, Grace, & Finn
18. knows how to draw really awesome looking stick-people
19. is really good at memorizing and singing lyrics to his favorite songs
20. is okay with eating all of his fruits and vegetables so he can grow up big "just like dada"
We had a fun Star Wars themed birthday party for Hudson the next day,
click here
to see the madness! *Note - in these photos Hudson is still wearing the yellow "Mt. View" vintage yellow t-shirt we found for him while shopping on Melrose...it's now his favorite thing to wear and I thought, "what the heck, it's his birthday and if he wants to wear it two days in a row then he can." :)
WARNING!!!! LONG POST AHEAD!!!!
As most of you know, Amelia is the one who does the majority of the posts on our blog. Well, the time has come for me, Justin, to post once again.
As many of you know, I had the fortunate, life-changing opportunity of going to Haiti recently. I spent two and a half of the most intense and rewarding weeks of my life there, and I happened to have my camera with me. The following photos will help tell some of the stories that I wish to share with you.
My love for Haiti goes back to 1996, when I went there for a couple of years to do missionary work. Prior to arriving in Haiti for the first time, I knew very little. I had heard about their vodou, the refugees fleeing to Florida and The Serpent and the Rainbow, but these vague labels tell very little of the Haitian people, the Haitian spirit, or the REAL Haiti that I would soon fall in love with.
Spending those young years of adulthood, in the service of the Haitian people, changed me and left an impression that would prove to last throughout my life. I fell in love. I fell in love with HAITI! I fell in love with the Haitians! I learned the language, Haitian Creole, and fell in love with their culture, their stories, their proverbs, their laughs, their smiles, their love, and their spirit. It is a spirit of humility, of giving, of resilience, and of a love for God.
I got accepted, and I had yet to ask Amelia's permission. I figured I'd try my chances at acceptance first, and if that day came I would see what she thought, knowing there would be many willing and ready to take my place were I to decline. Amelia is the sweetest, most compassionate and supportive wife of all time. She had the heart and the strength to allow me to go, while she stayed behind with our children, uncertain of what I was about to embark upon.
These photographs tell that story, of the two and a half weeks that I spent in Haiti!
On the flight over there, two of the female translators seated behind me were holding hands. The girl on the right is Haitian, and the girl on the left is American. A telling sign of what was to come.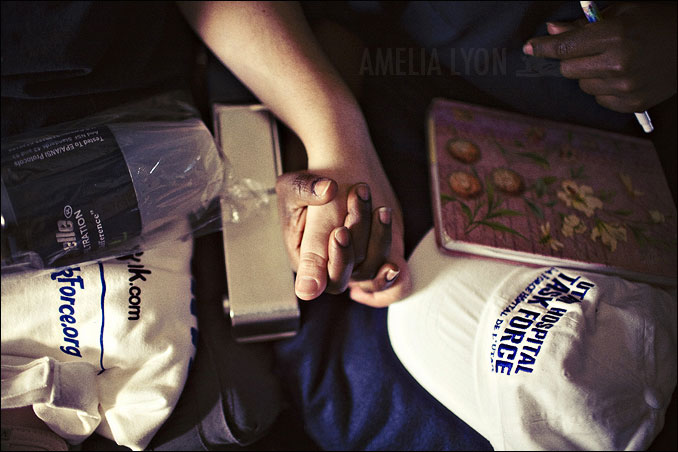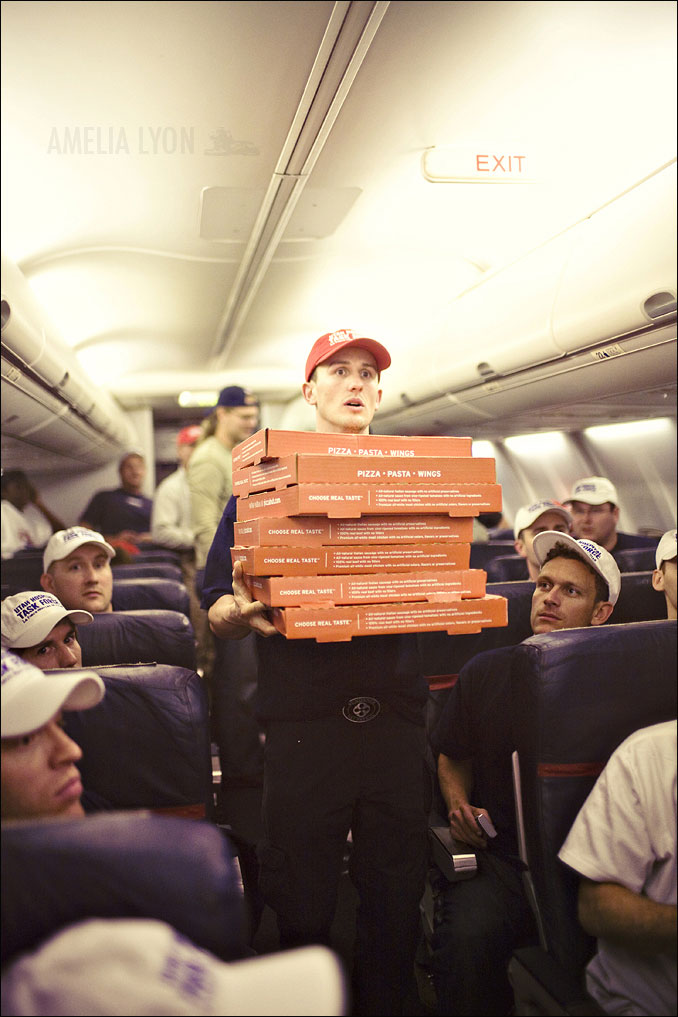 This was taken at 1am the night we landed on that Sun Country plane in Haiti! Thank you
Sun Country
!
"Gad Bless You" it says on this cast. The intention is there...
Here is Steve, one of our translators, and a local leader as we were heading in to a tent city at a French school that had yet to see any medical help since the earthquake.
In the words of Steve Studdert about our group: "we recently formed the largest non-military emergency aid task force to Haiti. I was privileged to be part of that team of extraordinary human beings who accomplished remarkable feats of heroism and service in Haiti. Countless were the broken lives blessed by this magnificent team of gifted medical professionals, indispensible Creole-speaking returned missionary translators, and knowledgeable construction specialists.
Our brothers and sisters in Haiti were experiencing incomprehensible suffering in what one U.N. official termed the worst human catastrophe in recorded history. With determination, compassion, unity, and a respect for the dignity of every Haitian, the team engaged their innovation, skills, and resources to bless those in Haiti who are hurt, homeless, and hungry. Our ability to serve came, to a great extent, from the freedom we enjoy in North America to make a difference, the freedom to act independently, to make our own decisions as to where and how we give of ourselves and our money. Our abundance, born of the American can-do spirit in our free society, made it possible. President Franklin D. Roosevelt once said, 'The test of our progress is not whether we add to the abundance of those who have much. It is whether we provide enough to those who have little.' Hopefully we added something to those in Haiti who have so very little."