Justin and I officially became parents of a five year old on Easter Sunday (4.04.10)! How in the world did 5 years go by so fast?! I think back on how much our Hudson has grown and am constantly blown away by his bright spirit, energetic personality, imagination, and wittiness...he's a pretty smart kid (I can say that...I'm his mother)!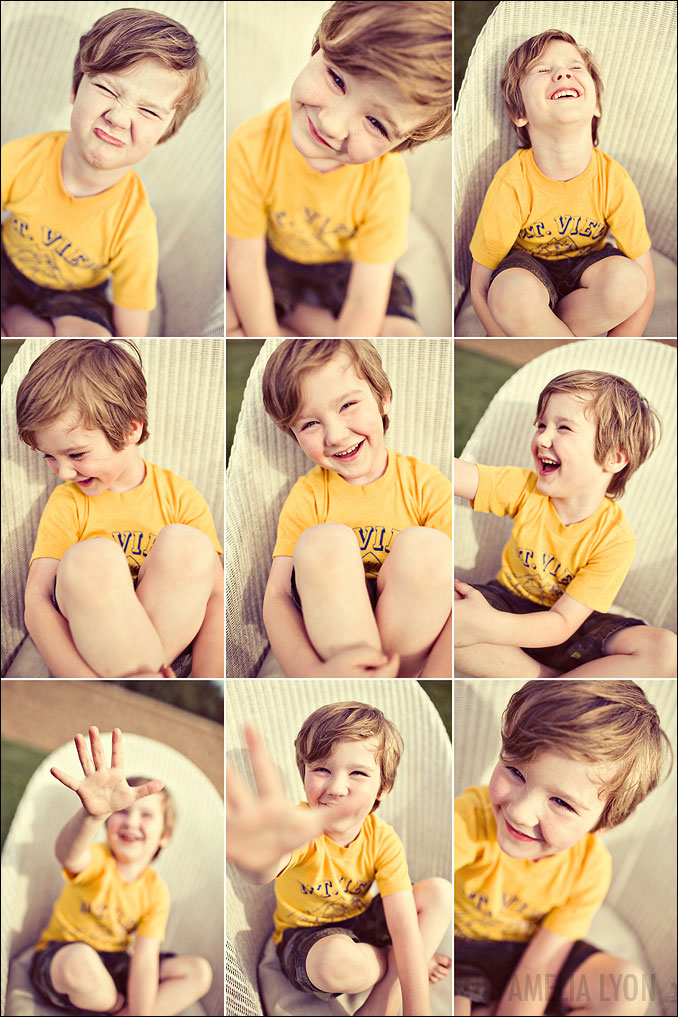 1. LOVES playing Mario Brothers and Mario Kart on the Wii
2. is super helpful to mommy and daddy
3. is really into Legos, Star Wars, and dinosaurs
4. knows exactly how to make his little brother laugh at the drop of a hat
5. has two best friends at pre-school, Logan & Zachary
6.
still
has a make believe pet cow named "Mc-Mooey"
7. also has an imaginary friend named "Tyler"
8. is better at Mario Kart than mommy and almost as good as daddy
9. favorite ice-cream is mint-n-chip
10. always is fighting with mommy & daddy about who gets to style his hair & what he wants to wear ;)
11. is learning how to be a super rad reader and is getting better at writing every day
12. likes to ask A TON of questions
13. some of his favorite bands include: Black Eyed Peas, Phoenix, Miike Snow, & Vampire Weekend
14. loves to have dance parties with mommy, daddy, and "Sloanie" everyday
15. always reminds the family to say prayers
16. only likes to eat the frosting off the tops of cupcakes
17. best friends outside of school: Maddux, Grace, & Finn
18. knows how to draw really awesome looking stick-people
19. is really good at memorizing and singing lyrics to his favorite songs
20. is okay with eating all of his fruits and vegetables so he can grow up big "just like dada"
We had a fun Star Wars themed birthday party for Hudson the next day,
click here
to see the madness! *Note - in these photos Hudson is still wearing the yellow "Mt. View" vintage yellow t-shirt we found for him while shopping on Melrose...it's now his favorite thing to wear and I thought, "what the heck, it's his birthday and if he wants to wear it two days in a row then he can." :)