In 2003 Justin took me to Haiti to visit for three weeks. He wanted to show me where he had lived and served for two whole years. He wanted to show me the beauty of the county he felt was his second home. He wanted me to discover the culture and people he had fallen in love with while serving selflessly. On that trip I saw the most amazing sites, met the most lively and spirited people, and saw why my husband loved the Haitian people so much! I also saw the deplorable conditions these people lived in and was in awe at their strength and endurance and happiness, despite their lack of living supplies.
This is Justin and I in a river swimming with the Haitians, that was a really great day!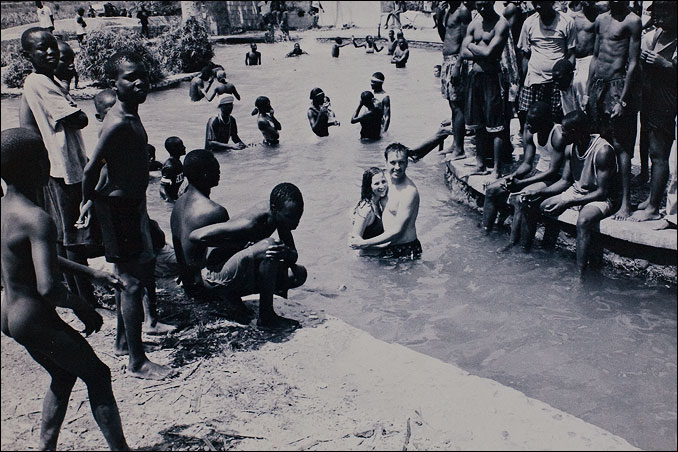 Justin had tried to make his way back many times and oddly enough became friends with
Wyclef Jean
just by approaching him and talking to him in his native language (Haitian creole...Justin is fluent). In 2006 Justin was invited to go with Wyclef (now an ambassador for Haiti) back to Haiti to be Wyclef's personal photographer. Justin documented the trip while Wyclef's non-profit organization
Yele
served the people, and as Wyclef performed at the big
Carnival
celebration that year.
On January 12th, 2010 the earth shook beneath the Haitians and left their entire country in shambles and left nearly 50,000 dead. Justin heard about this and IMMEDIATELY began pulling from all of his connections (anyone who knows my husband can attest to the fact that he definitely is a man with connections) to organize clothes, shoes, and funds to be donated to help those in need. He also began researching how he could make his way back to Haiti to help the people he once served with love. On Saturday, January 23rd, Justin received word that he would be able to go with a group to travel to Haiti to help translate and offer a helping hand. Today Justin is on his way to Haiti for another three weeks! This is part of the email he sent out to all of our friends and family:
"Hello Friends and Family!!! I am writing this email as I prepare to go down to Haiti for 3 weeks to help with the Earthquake Relief efforts! As many of you know, I did missionary work down there for 2 years, and have a sincere love and affection for the Haitian people. I have been heartbroken since the devastating earthquake, and have been anxious to get down there to be of service to my Haitian friends and family. I speak Haitian Creole fluently and have found a group going that is in dire need of translators. There are 150 of us going (50 translators, 50 medical professionals, and 50 construction professionals) under the banner of Utah Hospital Task ForceThe Utah Hospital Task Force will be traveling to Haiti within the authorization of USAID, and operating under the umbrella of Healing Hands for Haiti.
Through USAID, our tasking is highly organized. Upon arrival we will first set up camp as expeditiously as possible, then begin to serve as directed by USAID and UN officials. Our first priority is life saving - to get the Healing Hands clinic operating so that it can treat patients. We are also going to be bringing Orphans back on the plane that drops us off!
ForEveryChild.org
has confirmed 70 orphans cleared for release. A large percentage of these are two or so years old!
THANK YOU SOOOOO MUCH in advance for supporting me and my family as I embark on this sure to be life changing trip! I look forward to telling you all about it!
Mesi Anpil Zanmi'm Yo!!! (Thank You So Much My Friends!!)"
I am SO PROUD of my husband for giving up his time and talents to go help those in need. I feel such a deep love for my husband and see what a huge heart he has. I know he will be doing the work of God and helping the people of Haiti. I only have 21 more days until I get to see him again and I know he'll do an amazing job. I love you sweetheart! The boys and I will be praying for you to have a safe and successful trip and to arrive safely back home to us!
Trackbacks
Listed below are links to blogs that reference this entry:
Justin and Haiti!
. TrackBack URL for this entry:
http://www.amelialyon.net/darkroom/mt/mt-tb.cgi/232
Comments