*WARNING: This is a HUGE post!
We are so excited to announce our finalists and are even more pleased with the awesome response we've gotten in submissions. There were so many great stories and we're so happy to give back! After reading
Jessica Claire's wedding giveaway
in January of 2008 we were really inspired as to how we could give back after the outpouring of love we saw from our
auction last December
.
We finally were able to narrow down all of the many submissions to five! We were originally going to only take three finalists, but after much thought and contemplation we strongly feel that these five finalist couples deserve a fighting chance for our
Big Wedding Photography Giveaway!
So here's how it works: We have chosen a group of 12 special individuals who's generosity and compassion we trust to help choose the winning couple. But here's the important part, we need your help! LEAVE A COMMENT at the bottom of this post to cheer on and vote for the couple that you think deserves to win!
Couple Number One: Kristin and Steve
Story submitted by Kristin's brother in law Mike
Kristin is newly engaged to a great guy Steve (who is divorced, and a single dad of 1). They met at work. They leaned on each other for emotional support and helped each other during very trying times with their respective relationships. In time they became great friends and this kinship has blossomed into a marriage. When Steve and Kristin first met, all anyone noticed was how much they each came alive and seemed more happy then either of them had been for years. Anyone who has seen Kristin and Steve together can't get over how perfect for each other they are in quite possibly every way, they are both goofy and loveable and outgoing individuals. They have given each other the strength over the past year to overcome a lot of hard times and together have become closer to the Lord and much stronger invividuals, they truly bring out the best in each other. They are both from humble families who are not able to contribute much to their wedding, all the expenses are falling on their shoulders and are paying for nearly everything themselves. They are going to have to cut many things out; like catering, a wedding venue... they just want to be together and enter the next stage in their life together. Kristin has said she doesn't care being able to go all out for a wedding she only cares about being with Steve. Because the truly make each other happy. To make matter worse Kristin's Dad was recently in the hospital for life threatening reasons over the holiday season, the situation has been really hard on the family. As you can imagine this has hit all the family members very hard. I think with all that they are having to go through that this would be a huge up-lift to their family's situation. Photography is a huge passion of Kristin's. Should they be picked... I know this will mean a great deal to them and the rest of our family. It will help them begin their marriage together and family in a more positive light.
Story submitted by Rachelle's friend Marialisa
Her name is Rachelle, Chelle to everyone who has the chance to meet such an amazing woman.
I met Chelle when I was just 15 years old, and we instantly became close friends. Everything about her is infectious to those around her. Her beauty, her joyous laugh, her unique style, Her musical talents, her love for those around her, but, most of all her love for Patrick, her Fiancee'. Patrick and Rachelle met nine years ago in a church youth group. I believe that it was love at first sight. How could any girl resist a guitarist with a passion for music and God? It has been over nine years since Chelle first laid her eyes upon that gangly guitarist with the wide smile and deep dimples. And through those nine years Pat has been such an amazing friend, boyfriend, and just recently an amazing Fiancee'. These last couple of years were hard on them, not only financially (one of the main reasons it took so long to become engaged) but emotionally as well. Patrick has been so faithful in his position as her comforter and best friend not only through her parents divorce but, through the death of her Grandmother & her beloved Grandfather. I cannot only speak on my behalf, but for countless others when I say it is about time they are to be wed. We all jumped for joy at the news of the engagement. Being engaged is the only thing that has brought pure joy into Chelle, these past few months. You see, she has been taking care of her Aunt for six months who was diagnosed with lung cancer that has spread throughout her body, into her brain. Day in and Day out, Chelle is by her bedside. Cooking her food, changing her diapers, giving her medication for her pain, and reminding her of God's never failing love. Her aunt has no husband, or children to take care of her. However, Rachelle has set aside her anxiousness to do all the things a Bride to Be would do, to make her aunt as comfortable as she can. Family comes first. I can say that Rachelle and Patrick deserve to win your contest, just out of the love they have shown to not only my Husband and I, children in the youth group they are pastors of, but to everyone they meet. You will never meet another couple as unselfish and giving as they are. It does not matter what challenges I have ever faced, Chelle has been there with a word of encouragement, a prayer or just a hug when I needed it most. Please help me and bless them with winning a contest they so much deserve. I know that we have looked at your photography and just drooled at the thought of being able to have you as the photographer of her wedding. She would be the Happiest "bride to be", I have been the luckiest person to call Patrick and Rachelle, Best Friends.
Story submitted by Wendy.
Matthew and I met several years ago and looking back I don't think either of us would have imagined that we would be getting married in a few short months. We were very good friends in the beginning who enjoyed going skating with friends and taking trips to the beach. We had a passion for life and bringing others together. Somewhere along the way we started hanging out less and less with everyone else and more and more with each other. Our dating relationship was put on hold when Matt received some disturbing news following a routine physical. Matt was told that he had a brain tumor and that they would need to operate soon. I couldn't believe it. I was so nervous about what would happen to him and if he would ever be the same again. Matt was strong and never showed any signs of despair. He told me that God does not give us things that we cannot handle and that whatever the outcome may be he would be alright. So many people offered their prayers and fasted on his behalf. Matt's surgery was a success however the recovery was a bit difficult. The doctors were forced to take away his hearing in his right ear. Matt turned something like his hearing loss into a joke and said that it would be easier to get to sleep. His positive outlook continued to leave a lasting impression on me. The next few years of courtship brought about each of us trying to finish school and to find some way to prepare for life in the real world. Just when I thought things were going great and that we might start to make a life together Matt lost his job. It was a rough time and we didn't really have any money. I waitressed while trying to finish up my classes. Finally the day came when we graduated. Jobs were scarce for new graduates with little experience so we decided that I would go on and get my master's degree. Matt decided to make a complete change and prepare for dental school. Everyone told us we were crazy but Matt was smart and wanted a job where he could spend more time with his family and where I would not have to work. We continued on with our plans and to grow as a couple. I just graduated this last year and started to work at a nearby hospital. I love my job but the money I've started to save doesn't seem to be enough. The economy has taken a hard toll on my family and my parents are on the verge of bankruptcy. They have always been there to support me and I don't want to burden them with the expenses of a wedding.
I truly believe that Matt is my eternal companion. We have been getting an outpouring of love and support from everyone around us who are supportive of Matt and me in taking this exciting step in life.
Story submitted by Jason
We'd been dating for 7 years before I proposed. Somewhere in the middle of all that, there was this unspoken agreement that we would get married and live happily ever after. We hoped to finish school, save up for a nice big wedding, hopefully move into a beautiful home, and start a lovely family. In 2005, Kristina finished nursing school, and both of us were on a mission to cross off another milestone on our list. We wanted to have a nice Catholic wedding with all of our friends and family present. We were saving every little penny in hopes for that fairy tale wedding that she really deserved. Things were really looking optimistic, but as we all know, dreams and reality can sometimes be so far apart from each other. In late 2005, Kristina's mother, Rachiel, was diagnosed with Breast cancer. Just a few months later, Kristina's father, Salvador lost his job. It really put life into perspective for Kristina and myself. Our plans and dreams had to be put on the backburner. As you know, seeing your beloved family member go through a horrible disease can really put fear and distress in your life. Kristina felt confused and helpless. The thoughts of her mother not being around really scared the both of us.
Kristina's mother went through many diagnostic tests to stage the cancer and see if it had metastasized. She had a bilateral mastectomy, which left her physically and emotionally scarred. Her battle with chemotherapy left her bald for 3 months. A good day never seemed to be in sight. Rachiel had to take medical leave from work in order to focus on her health. With her mom taking a leave of absence and her dad unemployed, bills seemed to pile up really fast. In that year, Kristina seemed to grow up instantly. Without hesitation, Kristina sacrificed all her plans to pay off her student loans, monthly bills, and her dream wedding in order for her mom and dad to slowly recover and get back on their feet. Kristina took on a majority of the monthly mortgage and medical bills on top of her own debt. She constantly took on extra 12-hr shifts at the hospital in order to pay the piling bills. To say the least, she has been the ultimate trooper. Both, Kristina and I are firm believers in faith and determination. There were many times where Kristina could have lost hope and really embraced a selfish attitude, but her loving and caring nature overcame all other emotions. We cut back on a lot of luxuries in order to make her parents' transition work, and she never once complained. Almost 5 years later, her mom has been in remission with her cancer and her dad found a more fulfilling job working for their local church. Kristina's efforts and sacrifice have truly made a difference in both her parents' recovery. Her story and struggle remind me of your dad's situation. In the face of family tragedy, love empowers us to make the right decisions and help in any way we can. She's a beautiful woman, inside and out, and I want us to be able to look back at the photos and reminisce about our wedding day and the efforts it took to get there.
Story submitted by Kristine and by Kara
They met through a simple act of kindness. During summer school of 1999, Matt was feeling extremely sick to his stomach. Although everyone in class noticed and felt sorry for his distress, Jalyn actually got up out of class and bought him a drink from the vending machine to ease his discomfort. It was a simple act of kindness, but it touched Matt in a special way because only a few short months later they began dating. To this day, they are high school sweethearts and have been for over10 years. Having known Jalyn personally, I can tell you that her acts of kindness come to no surprise. That's just who she is. SELFLESS, loving, genuine, dependable, and without a doubt, a ray of sunshine. She could literally walk into a room and captivate an audience with her contagious laugh and warm hearted spirit. As a high school history teacher, she is a role model every day-- whether it's presiding as an academic educator, being a mentor for teenage students to confide in, or rallying in the name of education and the future of children by defending her fellow teachers from being pink slipped. That's just who she is. Matt, on the other hand, is Jalyn's rock. He's had so many misfortunes and difficult situations throughout his life -- and these experiences have enabled him to mature earlier on during our teenage years. Therefore, I've always known Matt to be strong, rational, nonjudgmental, protective, and unwavering. He holds alot in and he's not very good at expressing himself, but as a couple, both Matt and Jalyn are extremely loyal and generous beyond words. To them, the love they have for their family and friends is everything, and there have been numerous instances when both of them have had to make huge sacrifices to help a loved one out. Their doors are always open and they are constantly putting others before themselves without asking for anything in return. I can assure you, that if you select them as one of your final three, you will be overwhelmed too by the amount of love and RESPECT many people have for Matt and Jalyn! In 2006, Matt's dad was diagnosed with prostate cancer that metastasized to his thigh bone, shoulder, and skull. Although treatment blessed him into remission for a moment's time, he was again diagnosed this past September with colo-rectal cancer in addition to his prostate cancer. Then, this past November before a family vacation to Hawaii, an xray which was intended for his abdomen, caught a glimpse of his lower lung which suggested that the cancer had spread there too. Currently, Matt's dad is undergoing testing and care planning to determine the severity of his condition.
Although Matt and Jalyn have talked about marriage for quite some time (this girl was planning her wedding since we were in the 11th grade!), they were holding off until they were financially stable. With the health issues surrounding Matt's dad however, they've decided to make the wedding happen as soon as possible and are praying that Matt's dad will be able to witness their celebration of love! Although Jalyn may have had different fantasies regarding the wedding she dreamed about in high school-- to her, standing next to Matt and taking care of his heart by honoring his dad is more than enough. She always loved unconditionally...
This Christmas was one of the best holidays to date! For the first time both of my boys were totally into the whole baby Jesus and Santa Claus thing. They both could understand and logic why we celebrate Christmas. Their little enthusiastic spirits have made this Christmas season filled with so much joy, laughter, and excitement! I feel beyond happy for the many things I have been given in my life. My loving husband, my wonderful children, a talent that I find complete happiness in, wonderful clients, a roof over my head, a warm bed to sleep in, food in my tummy, and a firm faith that Jesus is the Christ. There is a deep gratitude I have for the sacrifice He made for each one of us. I don't mean to get all preachy, but for this time of year I feel it is only appropriate. Merry Christmas to all!
Here is Hudson making his Christmas

scribble

letter to Santa...too cute! Do you like his backwards "s"?!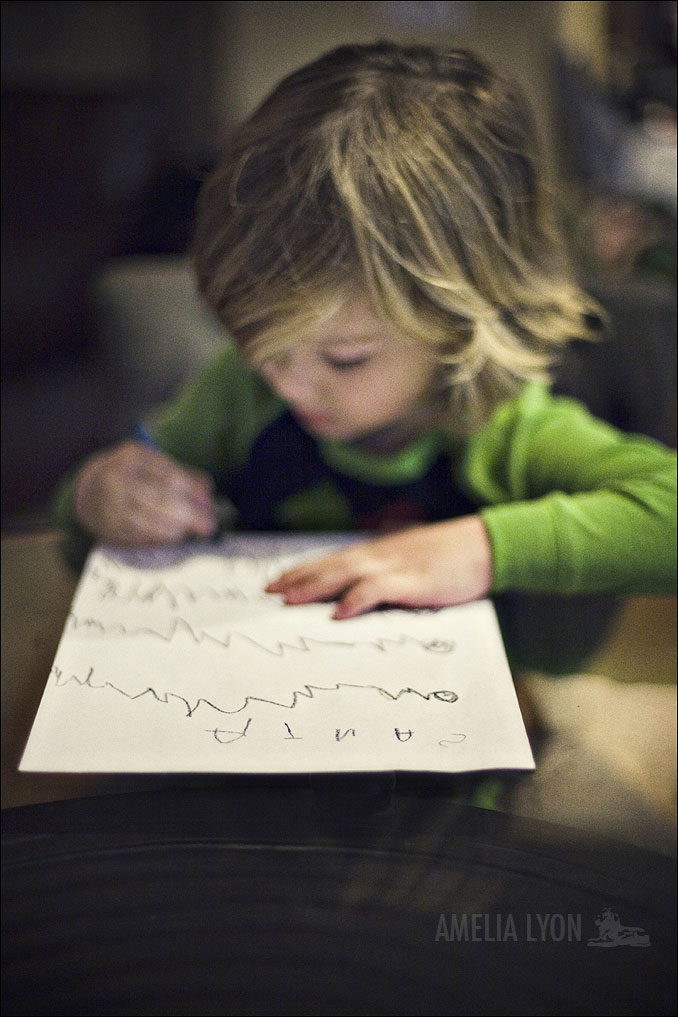 Hudson & Sloan were so excited to see that Santa had eaten some of the cookies they left out for him.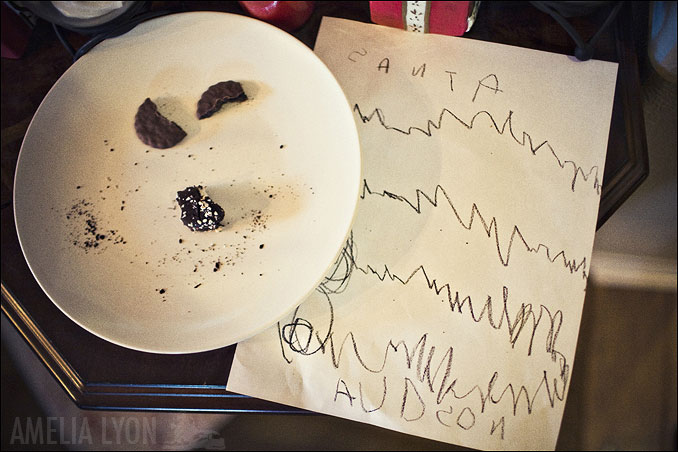 Now that Christmas is over, we are looking forward to an amazing new year! There is so much to look forward to, so many more amazing people to work with, and many more blessings to be had! Here's the Lyon family wishing all of you Happy Holidays and a VERY Merry Christmas!
PS. Keep a look out for our next post on the 28th where we will announce the top three submissions for our big Wedding Photography giveaway! There is still some time to send in submissions, so if you know of any deserving couples please email amelia@amelialyon.com.