On October 18th my little baby turned two and now he's actually a little boy! Sighhhhh, no longer a baby.
Here are a few fun facts about Sloan:
1. He wants to be just like his big brother Hudson
2. Loves to eat avocado, rice, beans, yogurt, and "eggies"...and that's pretty much it
3. Knows how to say his own prayers...sorta:)
5. Has a slight obsession with pigs and has a collection that is currently growing
6. Loves to dress up in hats, daddy's shoes, or even sometimes mommy's heals
7. Likes to repeat things he hears others say (believe us, we learned that the hard way!)
8. Favorite place to play is on mommy and daddy's bed, loves to bounce and wrestle on it
9. He can't get enough of Hudson, "Hudson, wook at me" or "Hudson, do it again"
10. ALWAYS wants mommy to "hold you"
11. He's the best snuggler ever!
12. Has his Grandpa Lyon's brown eyes
13. Asks us about twenty times a day, "uh-go-bye-bye?" (translation: I want to go bye-bye)
14. Has to sleep with his "froggy-bwankie" and his "whitning makeen bwanket" every night
15. If you ask him what his name is he says "I'm Swoanie"
16. He'll come up to mommy & daddy and say "Uh kisses!" and lay a big wet one one us!
17. Favorite band is Vampire weekend, really!
18. Sloan is lost without Hudson when Hudson goes to preschool and asks constantly, "mommy, where's Hudson?"
19. Walks around the house singing to himself, "I wike to move it, move it! I wike to move it, move it"
20. Best thing Sloan says is, "I wove you mama, I wove you dada, I wove you Hudson"
We took these photos on Sloan's birthday, it was such a great day...I love my little family!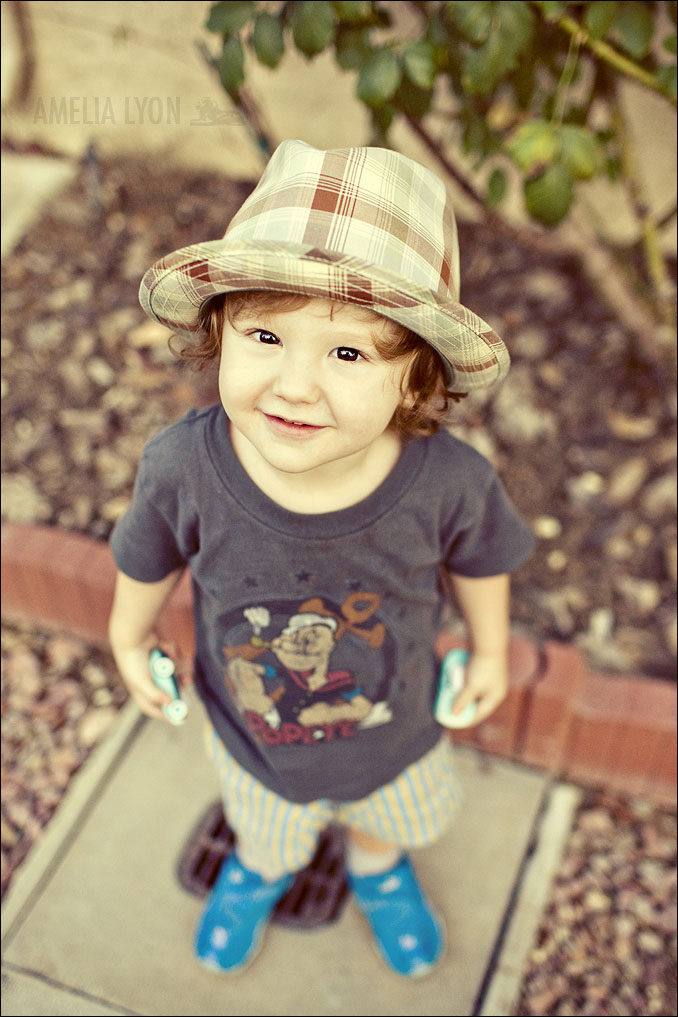 My absolute favorite time of the year is FALL! I try with all my might and will power to hold off on bringing my fall/halloween decor out until after the 1st of October. I was so excited this morning when I realized that today would be the perfect day to break it all out. Here in Southern California, the only sign of fall we really get is dry Santa Ana winds, but I LOVE it. The "Santa Anas", as my sister
Nicole
and I would call it (we got that from watching the movie The Holiday), remind me of happy times, homemade soup, and an urge to get into my kitchen to bake! I remember being a little girl and my parents would open up all of the windows and doors to let the Santa Anas blow right through our house (happy sighhhhhhhh....)
Anyway, here are some of my fall decorations, have a good weekend everybody!