After posting about my
dad's diagnosis
with
ALS
and announcing that I would be hosting an auction for a photo sitting in his behalf I received so many emails, comments, cards in the mail, and even blog posts from people all over the world wanting to help. I was so taken away by the response that was received. There were even many individuals that couldn't place a bid, but wanted to donate what they could. I have shed so many tears of joy and gratitude since that blog post and I don't even know how to put into words how thankful I am, thank you to everyone from the bottom of my heart! In speaking with my dad about all of the donations, emails, comments, and bids he feels strengthened by people he has never even met and to this I say again, THANK YOU to all for getting us through such a difficult time! Here are some of his words that he wrote in response to the outpouring of love:
"
My dear daughter Amelia, I am so incredibly touched by the love and well wishes from all of your blog buddies. The things which have been posted have added to my life additional peace, great courage and an abundance of gratitude in life. I have decided that I no longer have ALS. I now have ALD, "A Lucky Dad". However, this disease doesn't ever end, it goes on forever! How could any father be discouraged, regardless of the situation, when he is blessed with such a loving family? I can not begin to tell you how deeply I love you. I understand how difficult this is in your life. I need you to know that everything is alright and the strength we are learning from this trial is far beyond our ability to understand today, but will be of priceless value in our future lives. I love you and you family so much. Love, Dad I just have one last thing to say to you. HAVE A GREAT DAY!"
Now to announce the winner(s) of the photo sitting that was auctioned off: The ever-amazing
David Jay
and the uber-fabulous
Jasmine Star
(alongside her wonderful husband JD)! I was originally going to only take one winner, but both bid the same amount by midnight on New Year's Eve I was so happy that I decided to accept both bids! I am so blown away by their generosity and am so excited to photograph such amazing individuals (especially ones that have made such a positive impact on this crazy photography industry)!
May God bless everyone that has made a bid or donation in my dad's behalf! Here is one more photo I took of my dad and my step-mom Kristee at Zion National Park about a month ago. I saw this beautiful road against the gorgeous Zion rock mountain and wanted to capture them together in his favorite place on this earth, so we brought him over to the road in his wheelchair and he was able to balance for minute with Kristee while I snapped the shot.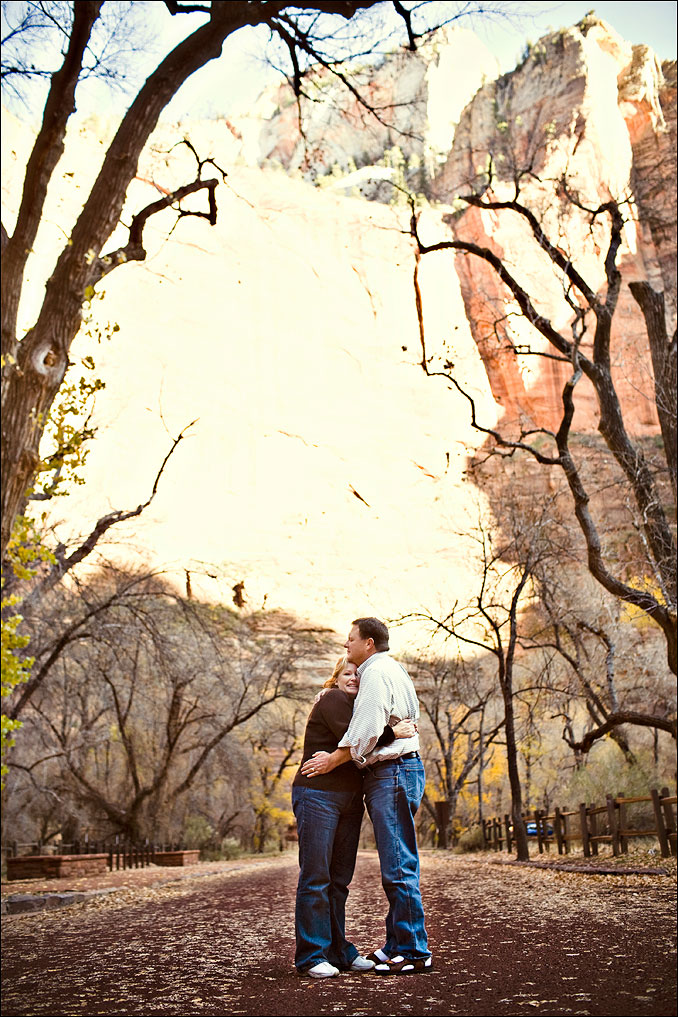 Just a quick update on the bid for the photo sitting, it is currently at $1000.00. I am closing the bidding at Midnight (Pacific Standard Time) so please email me with your bid or leave a comment. Have a safe and Happy New Year!!!! I'll be announcing the winner to the auction in the morning!