It's Christmas time in the Lyon household! I LOVE this time of year! The smell in the air is undeniable, there's a crazy special feeling all around...I should probably write a new Christmas hit song all about it:).
Ever since Justin and I tied the knot (back in 2002) I had been trying to incorporate some modern elements with our Christmas decor and no matter what I did it just didn't feel right. So this year I gave in completely and went 100%
cheesy
traditional and allowed all the red, green, and white to overflow! I have to admit that everything feels right now that my house is all decked out this way and I think I'm going to let it stick from now on!:)
Obviously I shot these photos a few days ago...the sign should read, "Santa comes in 15 days".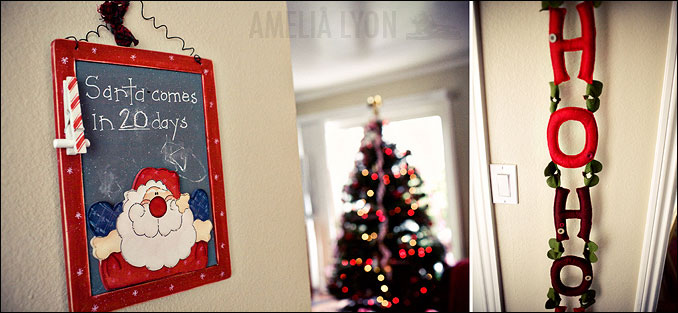 YIPPEE! Our next LYON-SHOP is sold out for January 12th!!! We're super excited to meet all of the new attendees! If you missed out on this one, not to worry, we definitely will be doing this again in the future! If you would like to be put on the waiting list email amelia@amelialyon.com. Happy Monday everyone!!!