Lindsey + Chris were married on September 10th at the Padua Hills Theatre. Upon arrival, I thought to myself, "of course Lindsey and Chris would pick this venue for their wedding, it's very theatrical!". As I mentioned in their
engagement session
post, Lindsey + Chris both have a passion for the performing arts and the Padua Hills Theatre was perfect to represent who they are and what they love!
The expression on Lindsey's face right before she + Chris see each other for the first time that day...
We are SO excited to announce that we've been
snagged
for the upcoming
Hitched Event
on January 30th at the
Ace Hotel
in Palm Springs.
The first Hitched Event
was earlier this year and when we heard about it's awesomeness we wanted to be a part of it so bad and wondered how we could be in on the next one. Then a few weeks ago, to our very pleasant surprise, we received an email letting us know that we've been SNAGGED (chosen) by the lovely ladies that run the Hitched Event, Paige Appel & Kelly Harris of
Bash Please
and Audrey Tantaros of
Urbanic Paper Boutique.
One specific reason Justin and I are super excited about this event is because of the unique scale this bridal show holds. It is EXACTLY what the wedding industry, full of upcoming artsy creative couples, needs!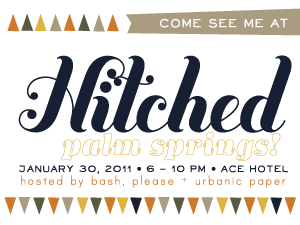 If you're getting hitched, or planning on getting hitched in the near future, you can't miss out on this rad event, plus we'll be there so stop by and visit us!:)
To get a visual of what this event is all about head on over to
The Flash Dance Blog
to see a video put together by
SharkPig
. I promise, it'll make you itch to be a part of it!