Over the past year Justin and I have had a blast traveling to various states to teach
LYON-SHOP
classes! Although we don't have any other dates planned yet, I wanted to do a couple of blogposts recapping some of our favorite portraits that took place during our live shoots.
This recap is from our Dallas LYON-SHOP that took place back in January at the
Nylo Hotel
, it was such a fun venue to shoot at, SO much to work with! Erin + Brad were the GREAT models, loved the chemistry between these two!
Also, before I go on, I just wanted to give a quick shout out to all of our
fantastic SPONSORS
that help make the LYON-SHOP classes happen! LOVE all of you! Mwahh!:)
Who wants to win a FREE photo sitting with yours truly?! Read through this post and see how you can help and be eligible to win!
Flash back to March of 2010...The story of Davy Jean and my first birth story:
When I heard about Scott & Ruth's situation with the pregnancy I wondered what I could do to help. I knew Ruth & Scott wanted more than anything for this little girl to live, to breath, to run, to laugh, to experience the joy of raising a daughter, and to be part of their family despite her special needs (they already had three little boys and this would be their first girl).
I suddenly had the urge to offer to photograph the birth. I had NEVER done this before, but it just felt right. Ruth's response was that she had thought about asking me to photograph Davy's birth, but didn't know how to approach me about it. She didn't know if I would feel comfortable being part of this delicate situation, but if I did she knew that I would handle it professionally regardless of Davy's outcome.
So let's flashback...to March of 2010, in the hospital room and Davy's birth story....
Scott & Ruth during labor. I remember Scott being so encouraging to Ruth, and Ruth displayed so much optimism under these hard circumstance, something still I admire her for today.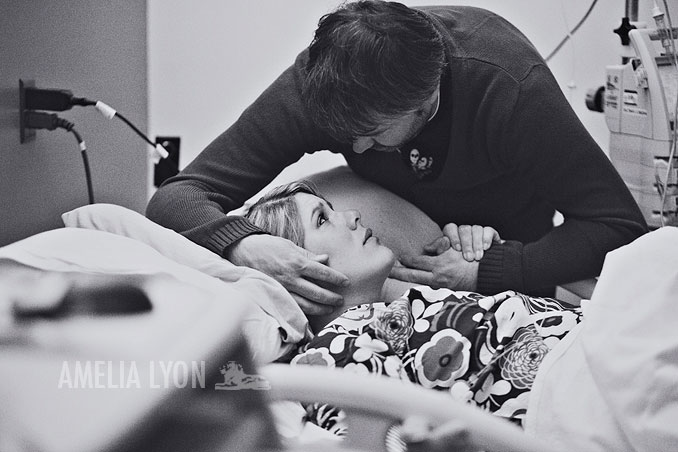 Scott & Ruth's first look at Davy Jean!
Davy continues to grow and learn each day! She can walk, run, jump, laugh, smile, love, and communicate through sign language. She LIVES each day, but not without a number of medications. Her medical bills are enormous, plus this family's health insurance keeps rising and RISING! Just one of the shots she has to take EACH DAY to keep her ALIVE costs $650 per month! She also has many more corrective surgeries to undergo in the future.
To everyone donating, please know that you will be the answer to so many prayers. I look forward to watching Davy continue on this life's journey...Davy the Super Woman!